Announcements
Please respond to Rachel Lichtenberg's email request to notify her of your participation in next week's Winter Show.
3rd Prototypes
Let's go around the room and discuss your 3rd prototypes. What did you want to accomplish with your prototype? How did it go? What did you learn? Which elements of your three prototypes will you show at the Winter Show?
Winter Show Materials
Your Winter Show presentation materials must include:
A Single powerpoint slide promoting your Final Project
Include a descriptive title for your project with a one sentence "elevator pitch description"
Include a bullet pointed list of features that demonstrate the scope and uniqueness of your project
Include a graphical element that helps explain your project visually
A single board poster you can use to present your Final Project Concept to interested parties at the Winter Show
Include a project canvas you can use to present the context & concept of your project
Include artifacts from your three prototypes as proof-of-concept demonstrations of your project
Be prepared to speak about your project concept to Winter Show attendees, and listen to (and document) their feedback. Think of this as a focus group market research opportunity you can use to strengthen your project concept for next semester.
Project Canvas
Below is an example project canvas for a fictitious Appointment Reminder App.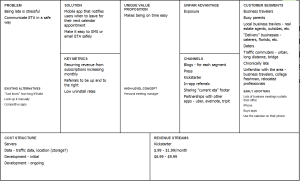 Here's an empty canvas you can print out and work with: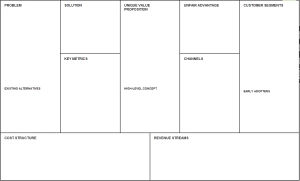 Or, you can try creating a canvas online at LeanStack.
One-Time Assignments for 12/1
Winter Show Slide & Canvas 
Continue refining your Winter Show Slide and Project Canvas. Post these to the class Google Community under the "Winter Show" category. We'll continue refining these next week, 12/1, and begin folding your prototypes and project canvases into your final written project proposal.